El autor del manga Masashi Kishimoto ha presentado a Naruto como uno de los personajes más cariñosos de toda la serie. Además de cumplir con su deber como ninja, el personaje de Naruto también muestra su amor por sus amigos y la aldea. Si bien esto es una buena parte de las características generales de Naruto, el enemigo decide aprovecharse de ello y utilizarlo contra el Hokage de la aldea de Konoha.
En el último capítulo de la serie de manga Boruto: Naruto Next Generations, la lucha entre Naruto, Code y Momoshiki acaba de estallar. A pesar de haber perdido a Kurama durante la lucha contra Isshiki Otsutsuki, Naruto pudo seguir el ritmo de sus enemigos.
Sin embargo, Code tomó a Shikamaru como rehén contra Naruto al verse acorralado por dos poderosos oponentes. Sabe que ser un rehén sólo arrastrará al Hokage, así que Shikamaru le pidió a Naruto que se olvidara de él y atacara a Code sin dudarlo.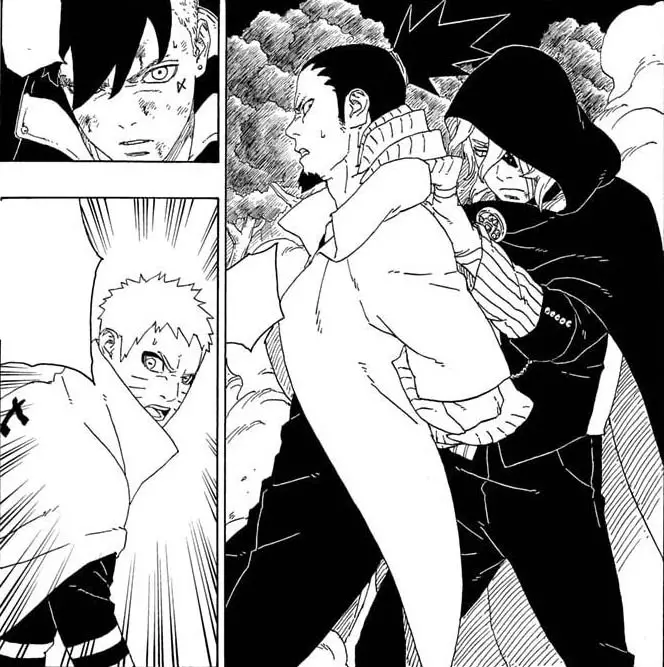 Para algunos, es una buena oportunidad para acabar con un enemigo, pero Naruto no es ese tipo de camarada que sacrificaría a su amigo por la victoria. Como resultado, Naruto se contuvo, ya que no quería dañar a su amigo. Aunque Naruto no escuchó la petición de Shikamaru, sigue decidido a acabar con el Código.
La toma de rehenes no parece llegar a su fin pronto, ya que Code sigue teniendo a Shikamaru en sus manos. Con el próximo capítulo del manga de Boruto, los fans esperan ver a Naruto salvar a su amigo de las manos de Code.
More About Boruto: Naruto Next Generations
Boruto: Naruto Next Generations is a sequel to Masashi Kishimoto's Naruto: Shippuden series. The manga was originally written by Ukyo Kodachi but it was passed to Masashi Kishimoto after some chapters.
Boruto was serialized in May 2016 by Shueisha and become part of the Weekly Shonen Jump magazine. As of writing, the manga series has already garnered 13 volumes since its serialization. The series already got its own anime adaptation which started airing in April 2017. But before the start of the anime, a Boruto movie has been released in 2015.
For more updates on Boruto: Naruto Next Generations and other new manga and anime, follow us here.