Mushoku Tensei: Jobless Reincarnation Season 2 Episode 5 release date is fast approaching. Following the peaceful stay of Rudeus and company in Doldia Village, they are now heading to a new town. While most of the fans are waiting for Rudeus to reunite with Roxy, the upcoming episode of the anime series will surely bring a lot of fun and development for our main characters. So, in this anime guide, we will be sharing with you all the important details about the 5th episode of Mushoku Tensei: Jobless Reincarnation 2nd Season.
Mushoku Tensei Season 2 Episode 5 Release Date
Will there be a delay or schedule changes for the upcoming episode of Mushoku Tensei: Jobless Reincarnation Season 2? As of making this article, we can confirm that the next episode will be released on its regular schedule. Assuming that there are no unexpected schedule changes, Mushoku Tensei: Jobless Reincarnation Season 2 Episode 5 should be available on November 1, 2021.
You can watch the 2nd season of Mushoku Tensei: Jobless Reincarnation for free on YouTube via Muse Asia's channel. Unfortunately, Muse Asia is only available in select countries in Asia. If you're not residing in Asia, you can still catch Rudeus and his adventure on Funimation and Hulu.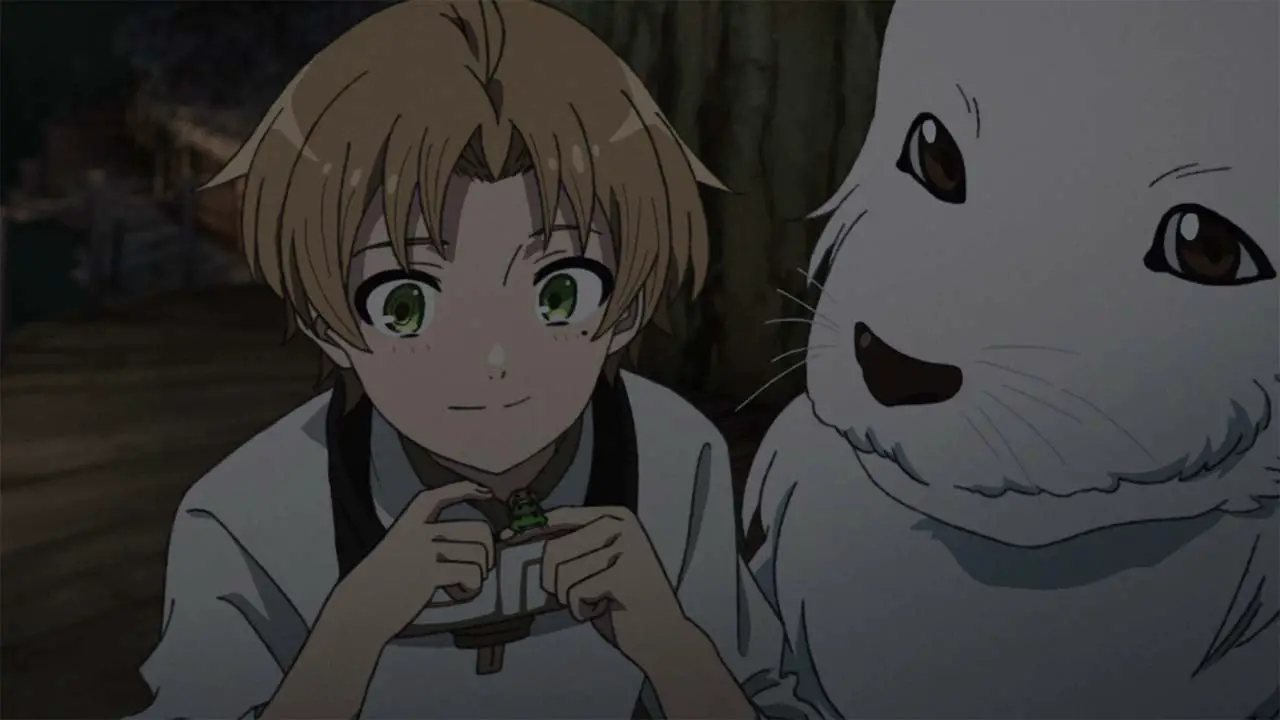 Mushoku Tensei Season 2 Episode 4 Recap
The 4th episode of Mushoku Tensei: Jobless Reincarnation Season 2, titled "Slow Life in the Doldia Village," officially aired on October 25, 2021.
At the beginning of the episode, Eris was taking a bath with Tona and Tersena, while Rudeus was caught peeking by Tona's father. During the dinner, Eris was teaching Tona and Tersena their language. Rudeus was proud of Eris for being a good teacher. Gyes noticed Eris' ring, which is a mark of the Doldia tribe. Gyes asked Eris where she got it, and she answered that it was a gift from Ghislaine.
Gyes was shocked to hear the name, while Rudeus while describing Ghislaine's appearance. Everyone in the room was silent until Gyes revealed that Ghislaine abandoned the Doldia's duty to guard the forest and the Sacred Beast and fled. Gyes pulled his daughter and told everyone that Ghislaine was a disgrace to their people. With all the words from Gyes, Eris stands up and defends Ghislaine. Eris also told Gyes that Ghislaine was great and she was her master.
Later, Tona and Tersena asked Eris about how great Ghislaine was. At the same time, Eris also learned that Ghislaine was Gyes's sister. At the very same moment, Tona asked Eris to teach him swordsmanship, to which Eris agreed.
Three months later, Rudeus and the party are about to leave. Tona asked Eris to stay, but knowing that it was not possible, Eris declined, resulting in Tona attacking her. Rudeus and Gyes arrived to stop the brawl and we see Rudeus complimenting Eris for holding back. Time has arrived for them to leave and Tona is still upset about what is about to happen. Gyes approached Tona and Tersena and told them how much she regretted what happened between him and his sister.
Tona finally realized everything and approached Eris before leaving. As Rudeus and Eris were about to leave, Gyes asked Eris for a fight as he wanted to see how great Ghislaine was. Eris agreed and the head-to-head match began. It was just a very short flight and we saw Gyes winning the battle.
Rudeus, along with his friends, left the Doldia Village. As they were riding their wagon going to the next town, Geese appeared and asked them to let him join them until the next town. Rudeus sees the monument to the Seven Great Powers, and Geese explains that they are supposed to be the strongest fighters in the world. Geese also told the current order, starting from number one: Technique God, Dragon God, Battle God, Demon God, Death God, Sword God, and North God. Ruijerd also shared how he trained when he was young, hoping to be one of the Seven Great Powers.
Eris got excited to learn how strong the Seven Great Powers were and hoped to meet them. However, Geese intervened and said that no one knows if the top four are still alive or already dead.
For more updates on Mushoku Tensei: Jobless Reincarnation and other new manga and anime, follow us here.