My Hero Academia Season 5 has just dropped a new episode, and now, we get to see the release of Boku no Hero Academia Chapter 317. The arrival of this new manga chapter answers some of the questions that we all had in Chapter 316.
Chapter 317 Full Recap
Following the big explosion in Chapter 316, Kohei Horikoshi has returned with the latest My Hero Hero Academia Chapter 317, titled Scars, Blood, and Mud.
The manga chapter starts with the pro heroes having a meeting after the explosion. Chapter 317 reveals that all of them have escaped the explosion that AFO prepared.
The heroes have been discussing how they will handle all the incoming threats as many of the pro heroes have already left the scene. The Death of Arms is one of the heroes who has been mentioned. During their conversation, Wing Hero: Hawks received a message confirming that Midoriya had made contact with the second assassin. And what surprised them was that Deku managed to defeat the villain immediately.
The scene shifts to Deku and All Might, where we get to see the former number 1 hero trying to stop Deku. All Might reminded Deku not to push himself too hard and have a break, but Deku gave All Might a cold reply. Instead of appreciating what All Might was doing for him, Deku told All Might to stop following him and said that he could use the 100% power of the OFA without sustaining any damage. Deku continued his search and left All Might alone.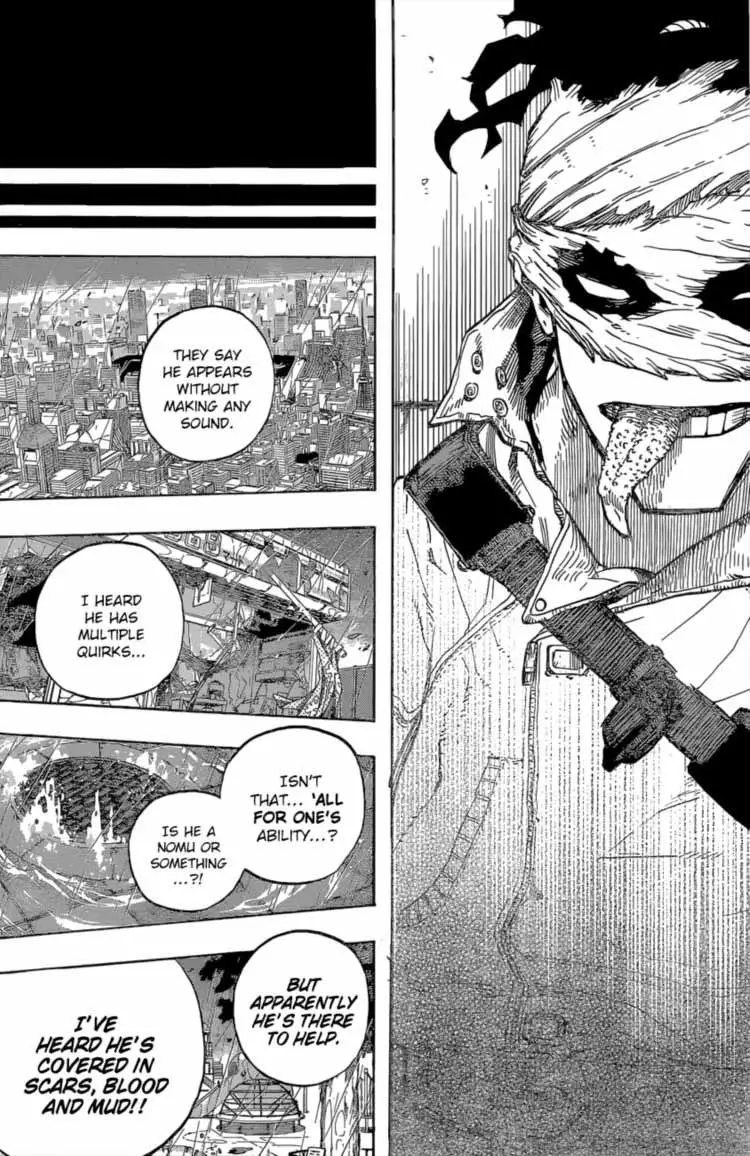 As the manga gets close to its last spread, Hero Killer: Stain has appeared, suggesting a rematch between Deku and Stain. Let's see how things unfold in the next chapter of the series.
Chapter 318 Release Date
Boku no Hero Academia Chapter 318 will be released on June 27, 2021. Unless there is no delay or schedule changes, the new manga chapter should be available on the mentioned release date. You can read the official English translations of the new manga chapter on Viz Media and Manga Plus by Shueisha.
More About My Hero Academia
My Hero Academia, also known as Boku no Hero Academia, follows the adventure of Izuku Midoriya, a powerless human in a world populated with superpowers. Despite being Quirkless, Izuku dreams of becoming the number hero. One day, Izuku meets All Might, the number one hero. All Might sees Midoriya as the successor to his quirk, known as One for All, and decides to make the young boy the next One for All user. Midoriya accepts the power and enrolls in U.A. High School. Shortly after, Izuku discovers that being a hero is much more complicated than he thinks. With the help of his friends and fellow aspiring heroes, Deku starts to grow with his new power.
My Hero Academia is a Japanese manga series created by Kohei Horikoshi. Shueisha serialized the Boku no Hero Academia manga series in July 2014. Since its publication, the manga has already reached 30 volumes. The first season of the My Hero Academia TV anime adaptation premiered in 2016, followed by several anime films.
For more updates on My Hero Academia and other new manga and anime, follow us here.