Durante el SBS 101, el autor del manga One Piece, Eiichiro Oda, revela los nombres de los miembros de la tripulación de los Piratas del Pelo Rojo. Esto ocurrió después de que uno de los fans le preguntara por sus nombres, que seguían siendo desconocidos hasta el final del SBS 101.
Anteriormente, los miembros conocidos de los Piratas del Pelo Rojo eran Shanks, Lucky Roux, Benn Beckman y Yasopp. Con SBS 101, los fans pudieron conocer a los otros miembros que ya habían aparecido varias veces en la serie One Piece.
Cuando se le preguntó por los demás miembros de la tripulación pirata, Eiichiro Oda respondió positivamente revelando sus nombres. Según el autor de One Piece, los Piratas del Pelo Rojo se han convertido en una gran organización, incluyendo a sus subordinados. La serie ya se burló de sus capacidades durante el arco de Marineford.
A continuación, Oda dio los nombres de los demás miembros de la tripulación: Lime Juice, Bonk Punch, Monster, Building Snake, Hongou, Howling Gab y Rockstar. Oda señaló que Rockstar era un personaje fuerte, pero no es un líder.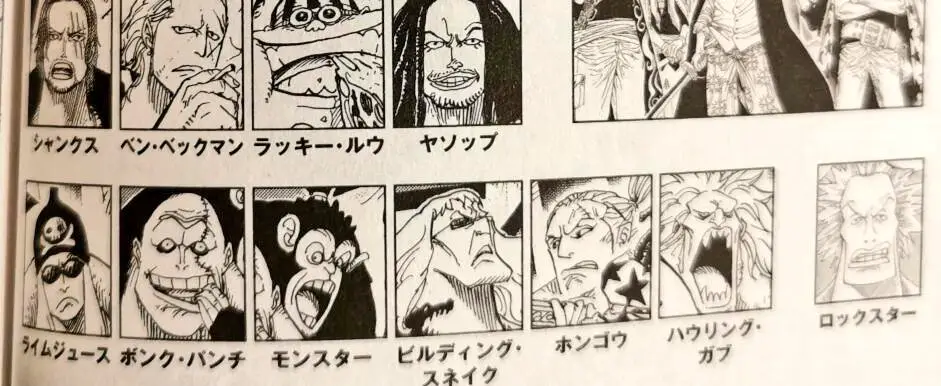 Oda nombró a los personajes de izquierda a derecha, así que no te confundas. La página wiki de One Piece en Fandom también fue actualizada después de que Eiichiro Oda nombrara a los miembros de la tripulación. Si aún no la has consultado, puedes visitar este enlace.
Con el anuncio de la próxima película de One Piece: Red, no es de extrañar que el autor dé estos detalles sobre los miembros de la tripulación de los Piratas del Pelo Rojo. Eiichiro Oda y su equipo aún no han revelado más detalles sobre la nueva película de anime, ¡así que permaneced atentos!
Explore One Piece Theories
Do you love reading One Piece theories? If so, please check our One Piece theory section and tell us your opinion about the theories and predictions that we publish.
More About One Piece
One Piece follows the story of Monkey D. Luffy, a young man who becomes a rubber man after eating Gomu Gomu no Mi. Luffy dreams of becoming the next pirate king. Luffy sets sail for the Grand Line, aided by his crew and other friends, in search of the treasure known as One Piece.
One Piece is a Japanese manga series written and illustrated by Eiichiro Oda. Shueisha published the first serialization of the manga in 1997. Currently, One Piece already has 99 volumes. One Piece also received its own TV anime adaptation, as well as several anime films.
For more updates on One Piece and other new manga and anime, follow us here.