The latest chapter of Kaiju No. 8 is finally out and we got to see another surprising event in the series. And while we're waiting for the release of Kaiju No. 8 Chapter 48, we're here to give you all the important details that you need to know. Read on to learn the official release date of the next chapter, as well as the ways to read the manga chapter online for free.
Kaiju No. 8 Chapter 48 Release Date
Originally, Naoya Matsumoto's Kaiju No. 8 manga was scheduled to have two new chapters every month. However, it seems that the production is getting good as the manga series is already getting a new chapter every week.
As for the release of Chapter 48, it has been confirmed that it will be available on October 28, 2021. Be the first to read the new manga chapter by following the series on Viz Media and Manga Plus.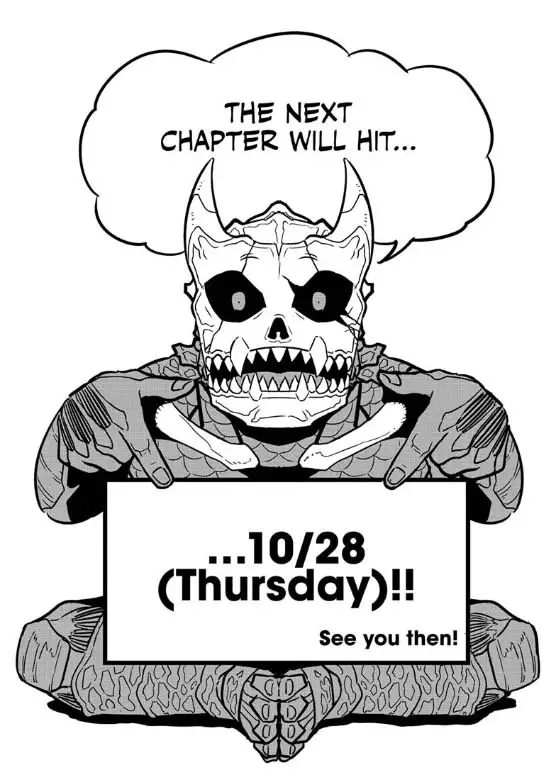 Kaiju No. 8 Chapter 48 Predictions
There are lots of things that have happened in the previous chapter. With Gen Narumi's new customized weapon reveal, it's likely that we will be seeing a more intense fight between the captain of the first division against Kaiju No. 9. The enemy's nature was already determined in the previous chapter.
Knowing its abilities, Kaiju No. 9 may come up with a new plan to deal with Narumi. Considering the damage the enemy already received, there's also a chance that he may find his way out of the battlefield. Well, let's see how things unfold in the next chapter of Kaiju No. 8 manga.
Kaiju No. 8 Chapter 47 Recap
Kafka Hibino was able to transform into his Kaiju No. 8 form, dealing massive damage to the enemy. Due to Kafka's attack, the monster reached out to Beta to fuse, but only to be declined. According to Kaiju No. 9, they can't convene as he is currently learning while fighting the captain of the First Division. Gen Narumi's subordinate reached out to ask what will they do once Kafka failed to control his Kaiju form. Narumi replied that he will head out. The captain unleashed his 98 percent combat power and attacked Kaiju No. 9.
Gen Narumi demonstrates both of his long-range and close combat skills by dealing huge damage to the monster. Despite all the hits, the monster was still able to survive. As the battle continued, Kaiju No. 9 adapted and countered the defense force. Using its abilities, Kaiju No. 9 attacked Gen Narumi, causing a huge explosion and leaving everyone worried. Isao Shinomiya also acknowledged the abilities of No. 9 as a Kaiju that operates like a virus. These attributes were not reported to the headquarters before and shocked everyone.
Following No. 9's attack, Gen Narumi resurfaced and told his comrades that he'd be fine as he was more of a threat than the monster. His survival also surprised the monster and noticed something unusual with Gen Narumi's eyes. Kaiju No. 9 sees the eyes of the captain as one of Kaiju's eyes.
At the very same moment, Gen Narumi attacked the monster and put a hole in his chest. The manga shifts back to the Director General of the Defense Force as he states that Gen Narumi's eyes are one of the captain's customized weapons, the RT-0001, Japan's oldest numbers weapon crafted from the retina of Kaiju No. 1.
More About Kaiju No. 8
For many years, grotesque, Godzilla-like monsters known as "kaijuu" have been sighted throughout Japan. To combat these beasts, an elite military unit known as the Defense Corps puts their lives on the line every day to protect civilians. When a creature is killed, "sweepers" from the Professional Kaijuu Cleaner Corporation are dispatched to dispose of its remains.
Kafka Hibino, 32, is dissatisfied with his job as a sweeper. He has always wanted to join the Defense Corps and kill kaijuus for a living. After a few failed attempts, he gave up on his dreams and resigned himself to mediocrity for the sake of a decent paycheck. Nonetheless, when an ambitious 18-year-old recruit named Leno Ichikawa joins his cleaning crew, Kafka is reminded of his desire to join the military once more.
Following a series of unfortunate events and an encounter with the junior sweeper, Kafka is attacked by a parasite-type kaijuu that forces its way into his mouth, transforming him into a humanoid monster. Kafka intends to use his newfound abilities to give his lifelong dream one last shot.
For more updates on Kaiju No. 8 and other new manga and anime, follow us here.