Now that the three members of the All-Stars of the Beast Pirates have been defeated, with King vs. Zoro as the last fight, the One Piece series seems to be bringing us back to the fight between Luffy and Kaido. As seen in the cliffhanger of the previous chapter, the upcoming One Piece Chapter 1037 will feature the continuation of the Luffy vs. Kaido fight.
This isn't the first time One Piece fans have seen Luffy face Yonko Kaido. Previously, the manga had already featured Kaido defeating Luffy many times. In fact, Kaido was even able to imprison Luffy during their first encounter. It was followed by Luffy's fall from the flying island of Onigashima after fighting the Yonko. But thankfully, Luffy's allies were able to help him and bring the Straw Hat captain back to the Onigashima island.
With the release of Chapter 1036, the manga teases fans with the return of the battle between these two captains. The two pirates are still on top of the Skull Dome as they exchange powerful attacks. Kaido is still in his hybrid form, while Luffy is using different gears to handle the power and strength of the Yonko.
In the last spread of the latest chapter, the manga features Luffy and Kaido on the ground after receiving each other's attack. Unlike before, where Kaido belittles Luffy, it seems that the Emperor has changed his view of the Straw Hat captain. The two captains were smiling as they stood on their feet. Luffy says that their fight is getting better, to which Kaido agrees.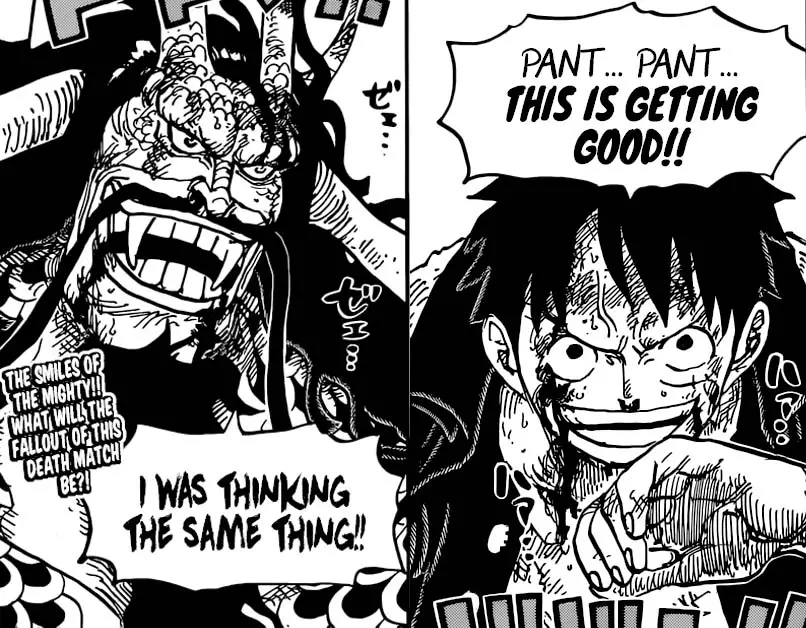 Thankfully, One Piece fans no longer have to wait that long as there will be no delay for the release of the next issue of the One Piece manga. That being said, make sure to standby for the full release of the English-translated version of One Piece Chapter 1037 on Sunday, January 2, 2022. You can read the upcoming chapter on Viz and Manga Plus.