Manga author Eiichiro Oda has just announced that the One Piece manga series will be taking a one-month break starting after the release of Chapter 1053. According to the details, the One Piece manga will not be available in the Weekly Shonen Jump magazine between Issue # 30 and Issue # 33. But what is the reason why the manga series will be put into hiatus?
In an announcement posted on Twitter, the release of the new One Piece manga chapter will be temporarily postponed as preparation for the upcoming arc in the series. As we all know, the Wano Country Arc is about to be concluded after reclaiming the Wano Country and defeating Yonko Kaido.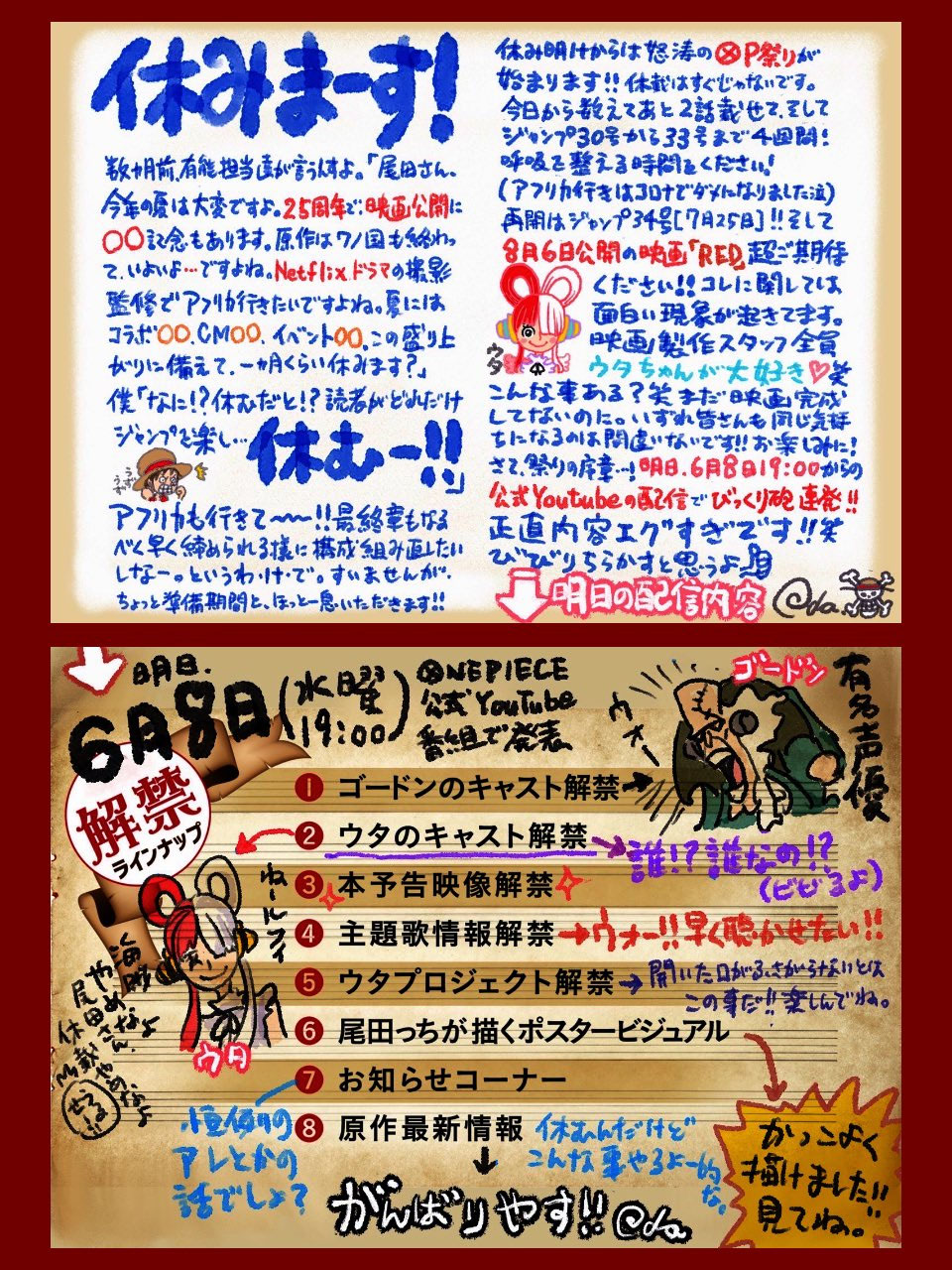 One Piece Chapter 1052 has already been leaked, and the spoilers include that there will be no break after the release of the chapter. Chapter 1052 is scheduled to be released on Sunday, June 12, 2022.
Assuming that the leaked One Piece Chapter 1052 spoilers are true, Chapter 1053 should be available on June 19, 2022. After its official release, manga fans will have to wait one month for One Piece Chapter 1053, which also suggests that it will mark the start of the new arc for the series.
With the One Piece manga's upcoming hiatus, there will be no delay in the release of new episodes for the One Piece anime series.
Explore One Piece Theories
Do you love reading One Piece theories? If so, please check our One Piece theory section and tell us your opinion about the theories and predictions that we publish.
More About One Piece
One Piece follows the story of Monkey D. Luffy, a young man who becomes a rubber man after eating Gomu Gomu no Mi. Luffy dreams of becoming the next pirate king. Luffy sets sail for the Grand Line, aided by his crew and other friends, in search of the treasure known as One Piece.
One Piece is a Japanese manga series written and illustrated by Eiichiro Oda. Shueisha published the first serialization of the manga in 1997. Currently, One Piece already has 99 volumes. One Piece also received its own TV anime adaptation, as well as several anime films.
For more updates on One Piece and other new manga and anime, follow us here.