Sakamoto and the gang are back in the latest chapter of the Sakamoto Days manga. Now that the 28th chapter of the manga series has finally been released, we are now moving to the next Sakamoto Days manga installment. Read on to learn the release date of Chapter 29, discussions, and more.
Sakamoto Days Chapter 29 Release Date
The upcoming Chapter 29 of the Sakamoto Days manga will officially be released on June 27, 2021. The manga is one of Shueisha's lineup of weekly releases. Unless there is no announcement of any delays or schedule changes, the mentioned date will be the final release of the new chapter.
To read Sakamoto Days Chapter 29, you can visit the official manga distributors such as Manga Plus and Viz Media. You can also check the official social media networks to get the latest update on the series.
Sakamoto Days Chapter 28 Recap
Chapter 28 picks up where the manga left in the previous chapter. We got Heisuke's big smile after saving Shin from the enemy. However, his first attack is not enough to defeat the opponent, who is engaged in a close fighting match.
Heisuke vs Seba
Heisuke tried to eliminate Seba as fast as possible, but Seba's invisibility and agility made it hard for the sniper to land a shot. Seba used a dummy to entice Heisuke into the room he desired. Seba attacked and stabbed Heisuke, but the sniper didn't stop and made his last shot.
Shin Defeats Seba
At first, Seba thought that Heisuke missed, but it turns out that Heisuku targeted a fire sprinkler. With the help of the water that has started pouring out of the sprinkler, Shin can now easily see Seba. Without any hesitation, Shin attacked and defeated Seba.
Sakamoto and Kashima's Fight Continues
As the chapter reaches its final manga spread, Shin and Heisuka are surprised by the explosion. Kashima revealed that he rigged the lab to explode to destroy any evidence of their work.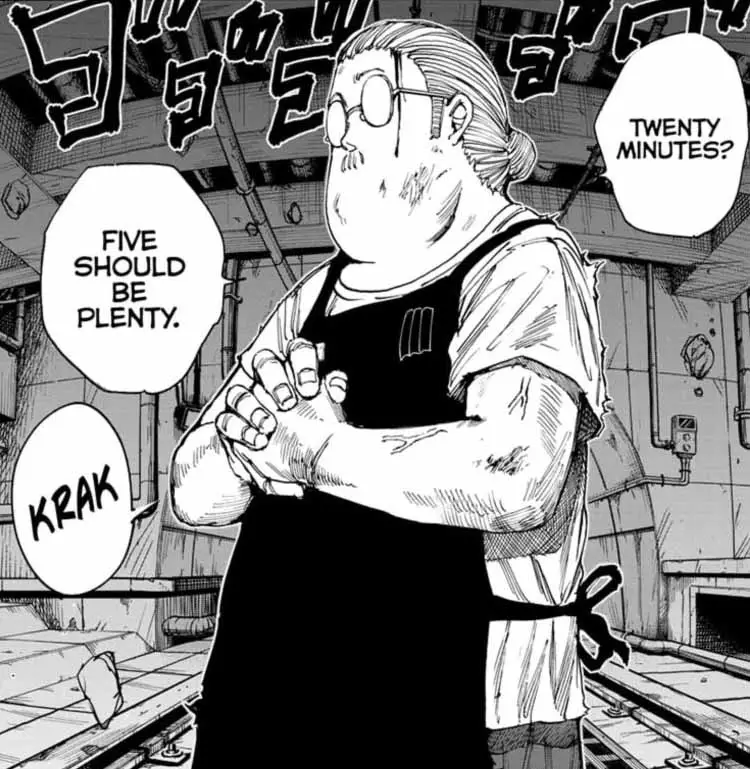 According to the villain, the factory would be destroyed in 20 minutes, and he told Sakamoto that his friends would die. Sakamoto answered that 20 minutes is a bit long and revealed that 5 minutes is enough.
More About Sakamoto Days
Sakamoto Days follows the story of Tarou Sakamoto, a legendary hitman feared by both bad guys and other hitmen. One day, Sakamoto met a girl and fell in love. The two later got married, resulting in Sakamoto retiring as a hitman. Sakamoto and his family started a convenience store and had a peaceful life, but the world he had just left was still following him. With the help of Shin and his other staff, they decided to protect his life and his family.
Sakamoto Days is a Japanese manga series written by Yuto Suzuki.  The manga has been serialized by Shueisha and will become part of the weekly Shonen Jump in November 2020. Sakamoto Days already got 2 volumes since its publication.
For more updates on Sakamoto Days and other new manga and anime, follow us here.