While many fans are waiting for the release of the 1000th episode of One Piece anime this Sunday, One Piece creator, Eiichiro Oda, has announced another surprising news. This time, the manga creator confirmed that One Piece will be getting a new film, which is set to release next year.
According to the details, the upcoming anime film is titled One Piece Film: Red. The full details of One Piece Film: Red is yet to be revealed but judging the logo of the upcoming One Piece movie, it seems that it will be covering the story and adventure of Shanks.
According to the https://t.co/vTB7ZEi5WQ domain, ONE PIECE FILM RED will be the next movie of the series, releasing on August 6th, 2022.

Here's Oda's message, also extracted from the website. pic.twitter.com/CcvRsfOhZo

— Shonen Jump News – Unofficial (@WSJ_manga) November 19, 2021
Apart from the film's title, Eiichiro Oda also released a statement to celebrate this news and expressed his gratitude to the production staff.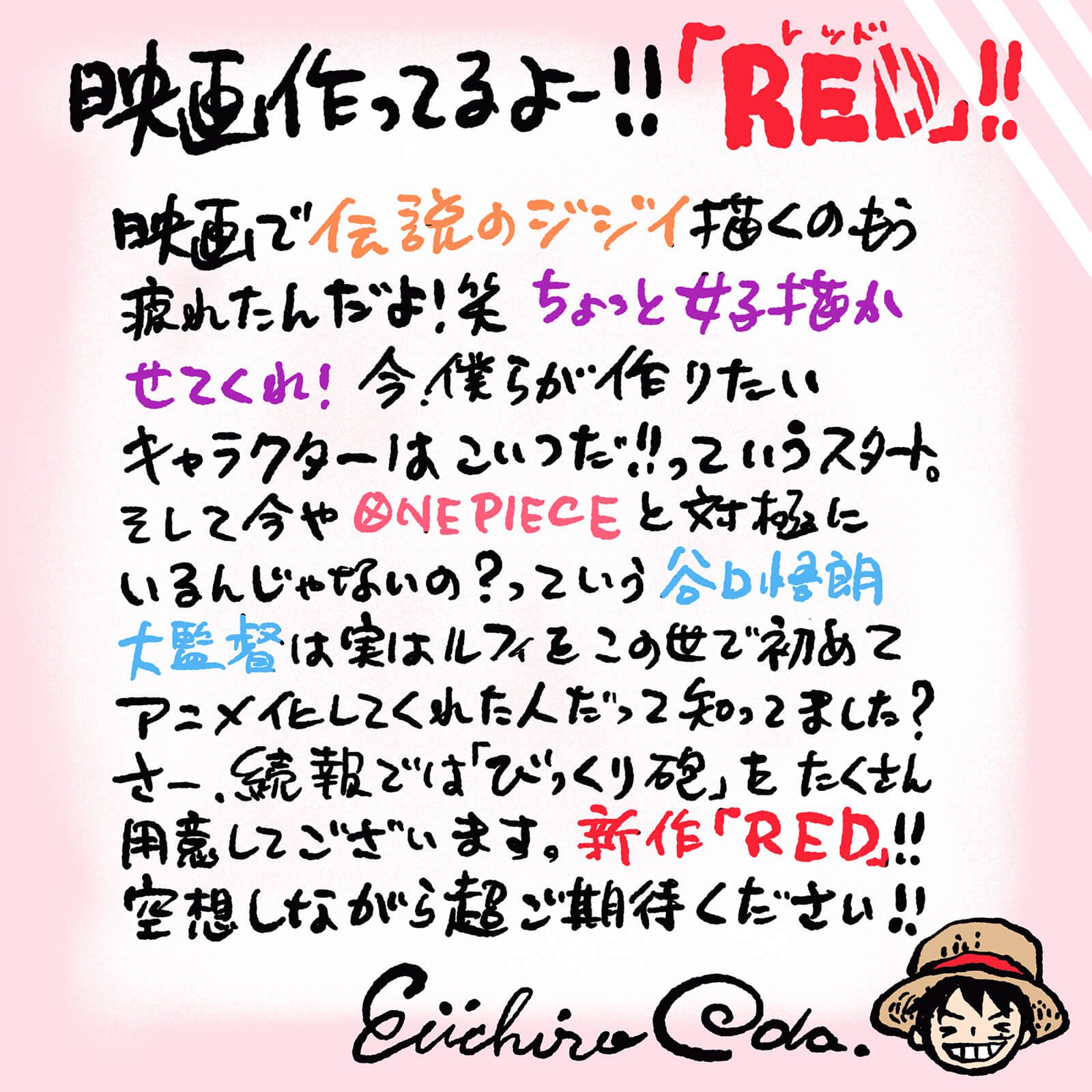 Here's the rough English translation of the image above:
We are making a movie!! RED!! I'm tired of drawing legendary geezers in movies! So give me a break lol! That's how it started, and we arrived at the character for this movie. Did you know that Mr. Goro Taniguchi despite being distant from One Piece is the first person to ever animate Luffy?

We've got many surprises in store for you! So please, look forward to the new "RED" and let your imagination run free!

Eiichiro Oda
One Piece Film: Red is scheduled to officially premiere on August 6, 2021. More details about the upcoming anime film will be shared with the One Piece fans but right now, what we only got is that Shanks will be appearing in the movie.
Speaking of the One Piece franchise, Netflix has also revealed the main cast of the One Piece live-action series. We have learned that Inaki Godoy will be playing the role of Luffy, along with Emily Rudd, Mackenyu, Jacob Romero, and Taz Skylar.
Explore One Piece Theories
Do you love reading One Piece theories? If so, please check our One Piece theory section and tell us your opinion about the theories and predictions that we publish.
More About One Piece
One Piece follows the story of Monkey D. Luffy, a young man who becomes a rubber man after eating Gomu Gomu no Mi. Luffy dreams of becoming the next pirate king. Luffy sets sail for the Grand Line, aided by his crew and other friends, in search of the treasure known as One Piece. One Piece is a Japanese manga series written and illustrated by Eiichiro Oda. Shueisha published the first serialization of the manga in 1997. Currently, One Piece already has 99 volumes. One Piece also received its own TV anime adaptation, as well as several anime films.
For more updates on One Piece and other new manga and anime, follow us
here
.