Mientras muchos fanáticos esperan el lanzamiento del episodio número 1000 del anime One Piece este domingo, el creador de One Piece, Eiichiro Oda, ha anunciado otra noticia sorprendente. Esta vez, el creador del manga confirmó que One Piece recibirá una nueva película, que se lanzará el próximo año.
Según los detalles, la próxima película de anime se titula One Piece Film: Red. Los detalles completos de One Piece Film: Red aún no se han revelado, pero a juzgar por el logotipo de la próxima película de One Piece, parece que cubrirá la historia y la aventura de Shanks.
According to the https://t.co/vTB7ZEi5WQ domain, ONE PIECE FILM RED will be the next movie of the series, releasing on August 6th, 2022.

Here's Oda's message, also extracted from the website. pic.twitter.com/CcvRsfOhZo

— Shonen Jump News – Unofficial (@WSJ_manga) November 19, 2021
Aparte del título de la película, Eiichiro Oda también emitió un comunicado para celebrar esta noticia y expresó su gratitud al personal de producción.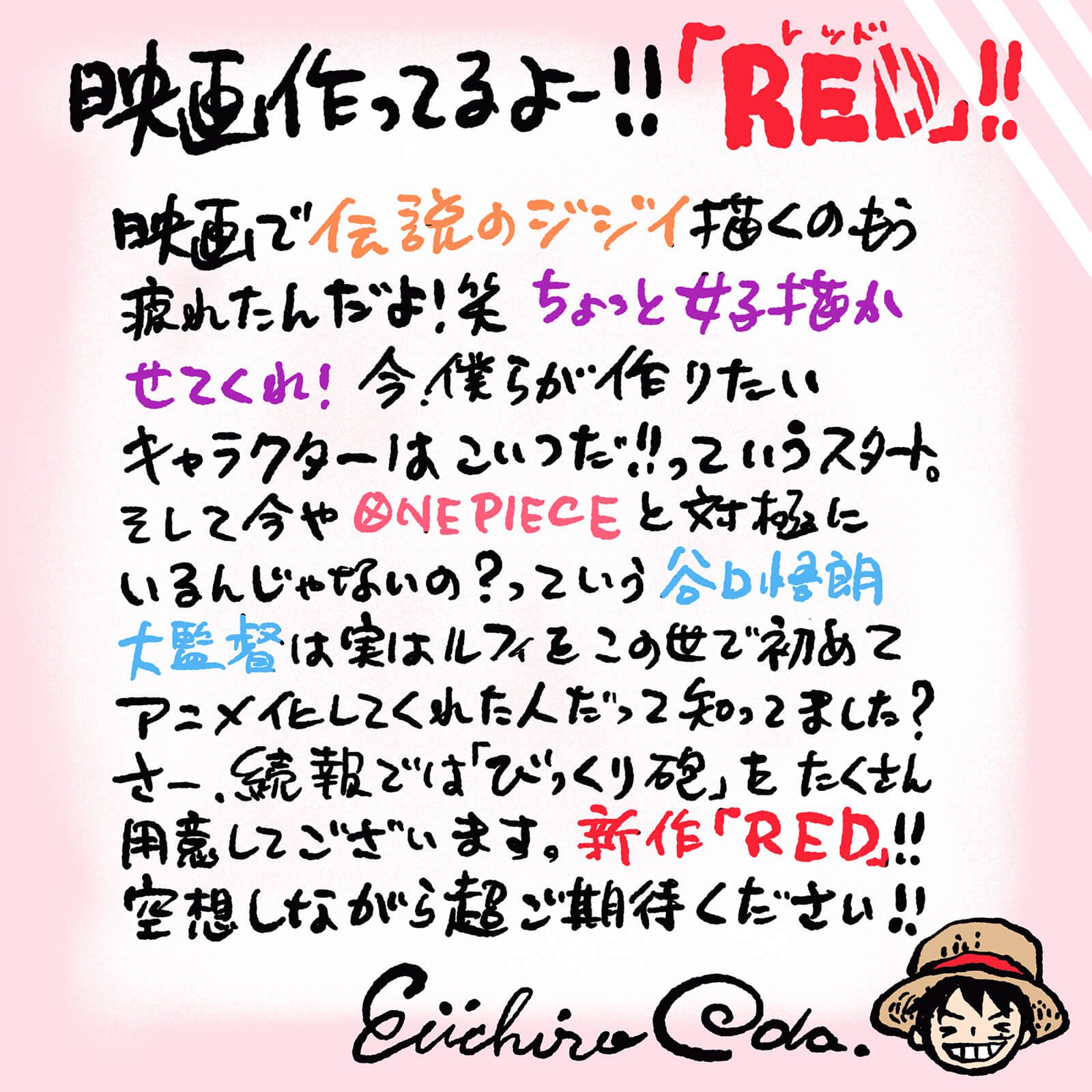 Aquí está la traducción aproximada al inglés de la imagen de arriba:
¡Estamos haciendo un movimiento! "ROJO"! Estoy cansado de dibujar a ancianos legendarios en películas ¡LOL! ¡Déjame dibujar una niña! "¡Este es el personaje que queríamos crear ahora!" Así empezó todo. ¿Sabías que el gran director, Goro Taniguchi, que ahora parece que está haciendo algo totalmente diferente a "ONE PIECE", fue en realidad la primera persona en el mundo en convertir a Luffy en un anime? Ahora, tenemos muchas "sorpresas" reservadas para ti. ¡La nueva película "RED"! ¡Deje que su fantasía alimente su imaginación mientras la espera!

Eiichiro Oda
One Piece Film: Red está programado para estrenarse oficialmente el 6 de agosto de 2021. Se compartirán más detalles sobre la próxima película de anime con los fanáticos de One Piece, pero en este momento, lo que solo tenemos es que Shanks aparecerá en la película.
Hablando de la franquicia de One Piece, Netflix también ha revelado el elenco principal de la serie de acción en vivo de One Piece. Nos enteramos de que Inaki Godoy interpretará el papel de Luffy, junto con Emily Rudd, Mackenyu, Jacob Romero y Taz Skylar.
Explore One Piece Theories
Do you love reading One Piece theories? If so, please check our One Piece theory section and tell us your opinion about the theories and predictions that we publish.
More About One Piece
One Piece follows the story of Monkey D. Luffy, a young man who becomes a rubber man after eating Gomu Gomu no Mi. Luffy dreams of becoming the next pirate king. Luffy sets sail for the Grand Line, aided by his crew and other friends, in search of the treasure known as One Piece.
One Piece is a Japanese manga series written and illustrated by Eiichiro Oda. Shueisha published the first serialization of the manga in 1997. Currently, One Piece already has 99 volumes. One Piece also received its own TV anime adaptation, as well as several anime films.
For more updates on One Piece and other new manga and anime, follow us here.